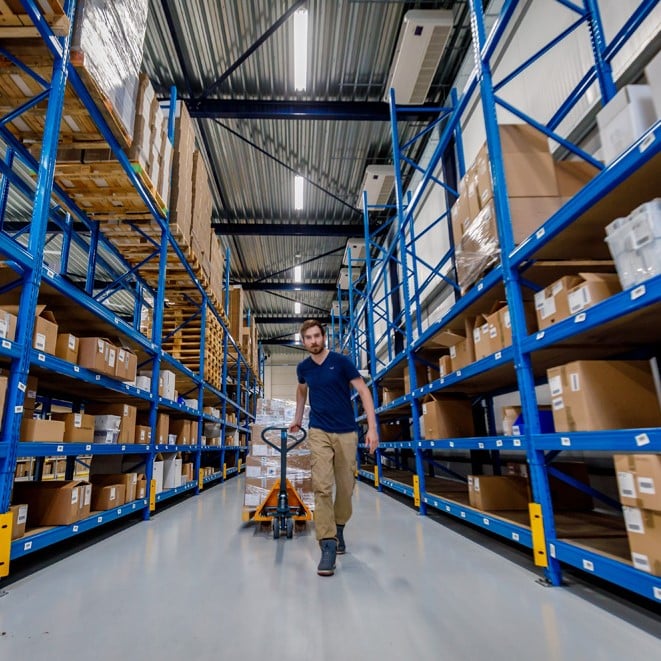 The Abacus Medicine Group supplies prescription medicine to thousands of customers across the world.
Every day, our employees work to provide better access to medicine and thereby better healthcare for all. Our core business is known as parallel import of medicine, but we are also well-established within other pharmaceutical and healthcare services such as clinical trial solutions, wholesaler and direct-to-patient services.
Our main markets are in Europe with a growing presence in Asia Pacific and the US. In 2021, we recorded sales in 33 markets across the world. We  operate in a number of locations including our headquarters in Denmark and sales offices in Germany, Austria, the Netherlands, Hong Kong and the headquarters for Abacus Medicine Pharma Services in the United Kingdom. Besides our sales offices, we have production and warehouse facilities in both Hungary and the Netherlands.
The Group operates as four brands: Abacus Medicine, Pluripharm, Abacus Medicine Pharma Services and Originalis. Each brand has a distinct core capability that is supported by multiple, cross-unit competencies including logistics, trading data analytics and a strong, pan-european sourcing network. 
Abacus Medicine is the original company of the Abacus Medicine Group, founded in 2004 by CEO Flemming Wagner and his father John Wagner (1932-2018)
The Abacus Medicine business is firmly established among the market leaders in the European parallel distribution industry. Abacus Medicine differentiates itself from most competitors within this industry through an ambitious, multi-market strategy. 
At the heart of the Abacus Medicine parallel distribution business model lies arbitrage trading based on price differences across Europe. In the EU, the price of prescription medicine varies significantly from one country to another, and price differences of 200% or more on identical packs of medicine are not uncommon.
Abacus Medicine creates value in the market and for our customers by importing medicine from EU countries with lower prices to EU countries with higher prices to sell at a lower price than the original manufacturer.
Supplying medicine at lower prices not only benefits our customers but also society at large. Abacus Medicine creates competition in a market characterized by rising healthcare costs to the benefit of patients and public budgets alike. Patients gain access to life-critical medicines at more affordable prices, and public spending on medicine is significantly reduced.
Pluripharm was established in 1984 and is one of the four leading pharmaceutical wholesalers in the Netherlands. Pluripharm was acquired by the Abacus Medicine Group in 2020.
With both a full line of medicines, medical devices and services, Pluripharm serves a wide range of customers and is a dedicated partner organization for independent pharmacies across the Netherlands.
The Pluripharm Group includes a number of companies and divisions all servicing different areas and customers. At the core of the Pluripharm Group lies its wholesale activities. It gives the company a platform that allows it to also offer a wide range of value added services, including direct to patient deliveries of medicine and medical devices. Pluripharm's certified online pharmacy Thuisapotheek is operated in collaboration with pharmacies and dispensing doctors.
Abacus Medicine Pharma Services
Abacus Medicine Pharma Services represents the pharma and healthcare services division of the Abacus Medicine Group. Abacus Medicine Pharma Services was acquired by the Group in 2017. Abacus Medicine Pharma Services delivers next generation services within 3 main service areas:
Clinical Trials Solutions
The Abacus Medicine Group holds thousands of marketing authorizations which gives our Pharma Services-division  unrivalled access to the medicines required to support the running of clinical trials. 
Commercial Partnerships
Abacus Medicine Pharma Services has extensive knowledge and experience in managing commercial development and market access in multiple markets on behalf of pharma manufacturers.
Managed Access Programs
MAPs provide a framework for a partnership where we create, implement and manage a program on behalf of a drug manufacturer to provide access to their drug in countries where it is not commercially available.
Unlicensed Medicines
Abacus Medicine Pharma Services excels at helping healthcare professionals and their patients with access to medicine that may not otherwise be commercially available in the country where they live.
Originalis is a parallel distributor of medicine just like Abacus Medicine.
The Originalis brand was firstly introduced in the Netherlands and has since been introduced in both Ireland and Germany to provide customers with more options to choose from and thereby more options for significant savings.
Since our first sale in 2006, an entrepreneurial spirit and a determination to see possibilities instead of limitations have been the main drivers behind the impressive development of the Abacus Medicine Group.
We have achieved significant organic growth in each year of our existence. But while consistent in delivering results, we have already reinvented the company a number of times in its short history. 
We have adapted to market changes and found new business in new markets and new products.